Cruise Ship Life
Suman Entertainment Group has the absolute finest staff in the industry and each one of them is dedicated to helping you fulfill all of your requirements so that you'll have everything need as you begin your gig.
We talk to almost every major cruise line on a daily basis so our staff knows not only exactly what you'll need but also the quickest way to get it all done correctly.
We'll walk you through it and to be honest, it's actually pretty easy. There are lots of different cruise lines but they all have fairly similar requirements for getting you fully processed and ready to board. It's nowhere near as hard as you might think!
What Do I Need?
Each and every crew member must have:
A valid passport
A complete pre-employment physical including lab work
A criminal background check
A visa or visas (depending on your nationality) may be required in order to enter certain countries
What Are Some Of The Details I Need To Know?
Ok, let's say you've been accepted for the gig and our Suman Entertainment Group staff got you 100% fully processed in record time… Now what?
The good news is that the cruise lines we work with will pay for your travel to and from the ship (assuming you fulfill the contracted assignment), wherever it may be in the world. This includes hotel accommodations if needed. Free travel is always awesome!
Another bit of great news is that food and lodging are provided on-board so you won't be spending your hard earned money on that stuff and believe me, the savings add up. Many cruise lines allow for dining in the passenger areas (passenger volume permitting) but on every cruise ship in the world there is a crew mess that is available to you. Your room and board are included on this gig so saving money is a breeze.
If you have never been on board a cruise ship, cruise cabins are quite small, so be prepared to pack as lightly as possible. For comparison, a crew cabin is like a slightly smaller version of a college dorm room (bunk beds for shared cabins) so space efficiency is very important. Musicians are generally placed in shared cabins (with another crew member) though some positions are entitled to a single cabin.
Another great thing is that complete medical coverage is provided to every cruise line employee while they are on board a cruise vessel. That's why the comprehensive pre-employment physical is needed.
Internet and phone are accessible while you are cruising. There is an internet cafe on every ship and both internet and phone are charged by the minute and/or by the megabyte. Many musicians bring a laptop with them if they have one and use the internet in port while the ship is docked. This is often much less expensive than the onboard internet.
You can purchase a phone card on board and make calls from the privacy of your cabin however, off shore calls into your room are not available.
What Else Should I Expect?
Expect enthusiastic crowds who appreciate your gifts and are genuinely delighted with what you're doing!
The passengers are on vacation so, your artistry, experienced in the ambience of a luxury cruise liner, helps make their holiday truly magical to them. To the international passengers who have paid their hard-earned money in order to get away from it all, you and your musicianship matter very, very much.
Your talent, personality, attitude and attention will define (in many ways) the guest's vacation experience so you have the power, through your effort and commitment, to make their experience extraordinary!
You should expect to be appreciated because on board a vacation cruise ship, musicians are a big deal!
What's The Musical Gig Like?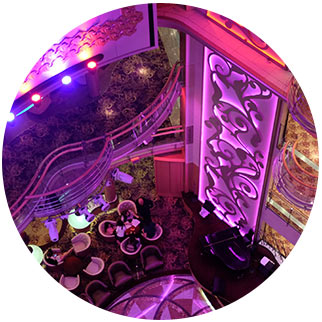 Expect to work an average of four 50-minute sets a night. The maximum number of sets you would ever be asked to work is six, which would be very, very rare.
Days off are scheduled at the discretion of shipboard management. Most sets are in the evening which allows you disembark along with the passengers and enjoy most every port you visit!
The only responsibilities you will have other than performing nightly are participating in safety and passenger drills. These drills are not voluntary, they are mandated by law and every crew member must participate. They occur once or twice a cruise and generally last 30 minutes to an hour. Actually, they're kind of fun.
Are You Ready To Go For It?
Cruise ship gigs are not only great fun but a great job resource for musicians all over the world. We've made representing musicians on cruise ship gigs a major part of what Suman Entertainment Group does because we believe in it whole-heartedly. It's a great gig run by very fine people, it's a wonderful opportunity to showcase your talent and it's a safe place to work and grow in your artistry.
We hope this article answered the biggest questions you might have had about gigging on a cruise ship but you know, there are endless questions about life on a cruise ship! It's a fascinating adventure and it can be extremely musically fulfilling while also providing a working musician a feasible way of saving away quite a bit of money.
You know, just a few contracts on some luxury cruise liners and before you know it, because your room and board are covered while you work, that new car down payment or new home down payment is easily within reach. Or maybe you upgrade your musical equipment or finally launch your album? These gigs facilitate big lifestyle changes and they do it while you explore exotic locations! You can't beat it!
But I'm sure you have more questions and really, the very best way to get answers to all of your cruise ship gig questions is to simply try it! Go for it!
Of course, there are trade-offs with cruise work compared to land work, but Suman Entertainment Group is comprised of 100% musicians and we understand both the pros and cons to cruise ship gigs. We are all working professional musicians. We feel that the unique opportunities provided through cruise ship gigs and the ability to perform and save money for your future are something that every musician should seriously consider. And because we book only the very best musicians, when you work with us, you can bet that your musical experience will be exciting and fulfilling.
Cruise ship gigging is an amazing experience, an absolutely great way to play for a grateful audience every day and simply the best way for a musician to save away a nest egg we've seen.
Are you ready to enjoy the benefits and security of shipboard employment? Come join us!