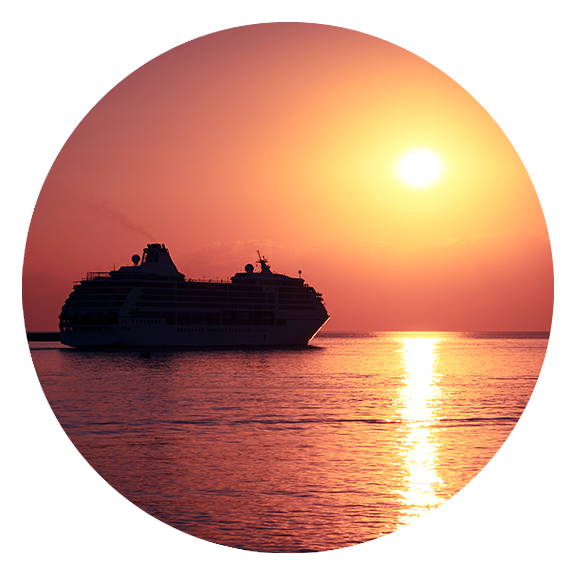 If you are new to ships or just interested in the idea of working on one, we suggest reading this page in addition to our Life On Board page.
Q. Do I live on board?
A. Yes. A cabin is provided to every employee and you live on the ship for the duration of your contract.
Q. Can I get off the ship and explore the ports of call?
A. Of course! This is one of the greatest perks of working on a ship. As a musician or entertainer, the majority of work is done at night leaving most mornings and afternoons to your discretion, including getting of the ship.
Q. Do I have to do any job other than to perform?
A. There is only one other requirement of musicians onboard in addition to performing: safey training and drills. Safety at sea is incredibly important and complicated, therefore every employee must participate in these exercises. This is your only other obligation.
Q. What is the pay scale?
A. Pay on ships is not always comparable to land work. This is because of the overhead to get each musician to and from the ship, provide complete healthcare, and food and lodging. That being said, there are very few expenses and if you don't have a lot of financial commitments on land, ships can be a great opportunity to save money. These are the MINIMUM salaries, all of which are negotiable depending on experience and quality of promo. Each line has different starting salaries, but generally: orchestra musicians = $425/week; band members = $500/week; cocktail soloists = $500/week; solo guitar vocalists = $600/week; piano bar entertainer = $650/week.
Q. How am I paid?
A. The standard method of payment onboard is cash twice a month. Many lines provide direct deposit. For those that do not, you can generally always wire from onboard for a small fee.
Q. Are taxes withheld?
A. If you are an American working for an American company (as most major cruise lines are), federal taxes are indeed withheld. International employees do not have taxes withheld but they are responsible for submitting their earnings to their national revenue service.
Q. Do I need to bring an amp, PA, mics, and music stands?
A. No. All PA and backline is provided onboard every ship.
Q. If I am joining a ship in Asia for instance, how will I get there and back?
A. Every cruise line provides travel for musicians and entertainers as long as contractual obligations are met. This includes flights and hotel. You will arrive to your port a day before the ship does to offset any potential flight delays.
Q. Even though flights are provided, baggage fees are really high these days. Does the cruise line pay for baggage expenses?
A. Sometimes. Some lines do not reimburse for these charges. However, many do for the first two bags as long as they are not overweight.
Q. Can family and friends sail for free or discounted?
A. If you are in a position that entitles you to a private cabin, sometimes onboard management will allow a single guest to cruise in your cabin. This is not usually a written entitlement though, and can really only be worked out with management onboard your particular ship. To have friends and relatives sail discounted in passenger cabins, there are special rates available on some lines for full time employees. However, these rates are only available if the cruise is not sold out.
If you have other specific questions, please feel free to contact us.